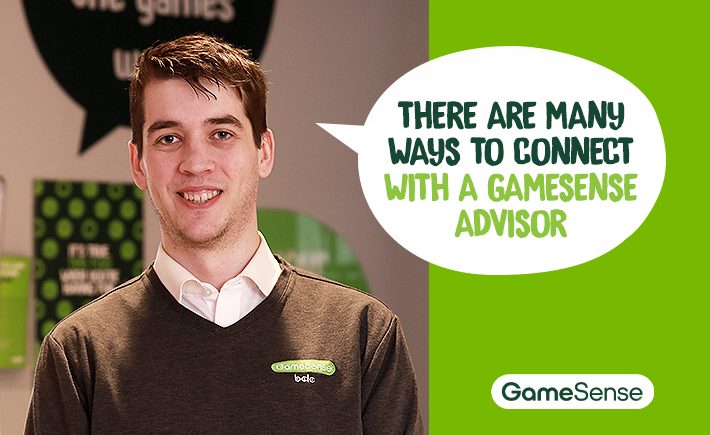 How to speak with a GameSense advisor
Now that casinos have reopened, you can connect with GameSense Advisors in many ways.
No one could have predicted what impact COVID-19 would have on our everyday lives—and with casinos and community gaming centres temporarily closing their doors to help keep our communities safe, finding new ways to connect with each other was more important than ever before. GameSense Advisors are ready to continue providing the one-on-one support and information that some might need.
What is a GameSense Advisor?
GameSense Advisors are player health specialists that are available to answer questions about games, the odds of winning and losing, and can offer information and resources that help keep gambling fun and on budget. They can also answer any questions about the Game Break program for those who have enroled recently or are considering taking a break from gambling.
And, when necessary, GameSense Advisors can provide referrals to free gambling outreach support offered by the Province of B.C.
Find a GameSense Advisor 
Previously, GameSense Advisors were only available in casinos and community gaming centres, but with the temporary closures, they have expanded their services. To ensure everyone has access to the support they need at this time, there are three new ways to speak with a GameSense Advisor:
Call BCLC's Customer Support Centre toll-free at 1-866-815-0222 and press 3. Available every day from 8 am to 12 am PST, players can speak with a GameSense Advisor for support, information and more.
Use the live chat function on PlayNow.com. Scroll to the bottom of the page to find it. 
Visit the GameSense Info Centre at your local casino.
Remember to take care
Physical distancing can understandably also have an effect on mental health, which is why it's also important to invest in a little self-care each day, including:
Making time to connect with family and friends over Skype, FaceTime, or other video chat platform.
Exercise—yoga and even walking can do wonders for physical and mental health.
Learning more about Game Break, if needed.