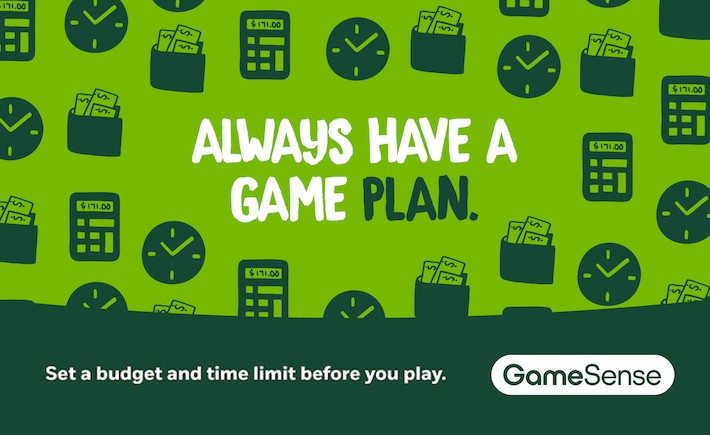 Always have a game plan
Time flies when you're gambling and having fun, which can make it hard to know when to quit. To ensure you're not dealing your wallet a bad hand, a little planning before you plan to play can go a long way. Our favourite game plan? Setting a limit for your time and money.
Budgeting money
Whether you're playing online or in a casino, gambling is just like any other form of entertainment—you're looking for a good time doing something you enjoy. And when you choose an activity, like watching a movie or seeing a concert to see your favourite artist, you probably have an idea of what you're willing to spend on tickets, food and beverages. Why should gambling be any different?
Setting a budget before you head out will help you keep within how much you're willing to spend—and let's face it, the house always has the advantage, so being comfortable with what you're willing to lose needs to be considered, too. However, setting your budget is the easy part; it's sticking to it that can often be tough. One tip is to take cash with you and leave the plastic at home. Having a tangible limit that you can see and feel might help make it a little easier to play within you limit.
Budgeting time
The great thing about activities like watching a movie or going to a concert is that they automatically have a time limit and when they're done, you're done—forcing you to choose something different. When it comes to gambling, the only time limit is the one you choose to set, because if you don't, you could end up spending more than your budget allows.
Getting up from a table or slot machine isn't always easy when you feel like you're on a roll, but setting a timer on your watch or smartphone is a great place to start. It'll be a reminder that it's time to take a break, finish up your game, and then choose to do something else, like grab a bite to eat or see a show. These small gestures will help you take a moment or two to assess where you're at with your time and money. And the best part? If you're still within your budget, you can choose to keep playing or do something different—just don't forget to reset that timer.
Looking for resources?
If you enjoy gaming on PlayNow.com, you can find tools to help manage your play. Or, visit guest services or a GameSense Info Centre at any casino or Chances location in B.C. to learn how the PlayPlanner tool can help you set a limit for your time and money. 
For more ideas and information on how to set a limit, a GameSense Advisor can give you even more ideas for not only setting a budget, but for so many other things, too. To find even more support, contact the BC Responsible and Problem Gambling Program by calling Gambling Support BC, 24 hours a day, seven days a week at 1-888-795-6111.