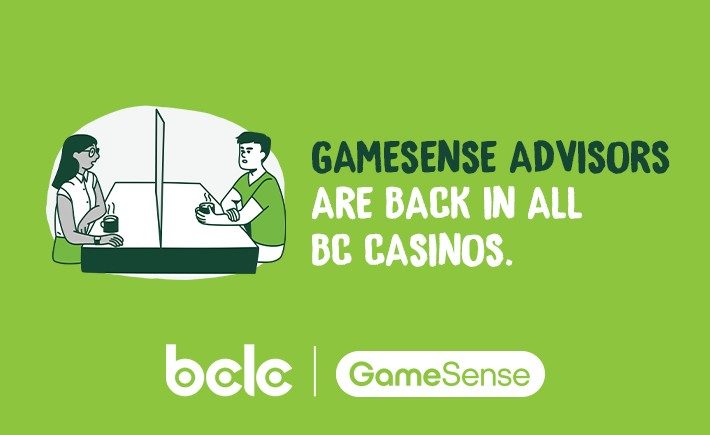 GameSense Info Centres are open! Here's what to expect.

As of July 1st casinos are open again, which means that GameSense Info Centres are open again too. As part of the "new normal", there are a few new measures in place for those looking to reconnect with a GameSense Advisor. Here's what all players should know before they go.
Keeping it safe
Things might be a little different right now, but GameSense Info Centres and GameSense Advisors are still a great way for players to learn how games work, the odds of winning, and to find additional resources. With the re-opening of casinos, GameSense Info Centres are also doing their part to help keep everyone safe:
  •  Only one player at a time will be allowed in the centre, which also helps keep conversations private.
  •  Plexiglass barriers in place for safer, in-person conversations with GameSense Advisors.
  •  GameSense brochures are available upon request, can be accessed on GameSense.com or by scanning QR codes found at the centre.
  •  Demo slot machines are temporarily unavailable, but GameSense Advisors will have other tools to help educate players.
  •  Signage reminding players of physical distancing and other health and safety measures. 
  •  Hand sanitizer stations are available for both players and staff to use.
Not ready to visit just yet? No problem. GameSense Advisors are still available by phone at 1-866-815-0222 or through the PlayNow.com Live Chat function.

As the province continues to slowly reopen, safety measures, in accordance with guidance put forth by B.C. health authorities, have been implemented throughout every casino. For example, the number of visitors will be limited, floor decals will help guide players around the casino floor safely and signage will remind everyone to maintain physical distancing of at least two-metres. Additionally, cleaning and sanitization processes have been increased to help reduce the spread of COVID-19.
Remember: healthy play is an important component to your overall health. PlayPlanner  is a budgeting tool that's available at all casinos in B.C. It allows players to set daily limits based on time spent, money spent, or both, making it easy to stay on track.